Welcome Days for newly matriculated international students

What are the Welcome Days?
To prepare new international students for their studies at the University of Freiburg, the International Office organizes special welcome days before the beginning of each semester. It generally takes place two weeks before the beginning of the semester.
What can you expect to gain from the Welcome Days?
The conditions of study at the University of Freiburg will be entirely new for you. In addition, you will be studying in an environment which you are not used to. We thus recommend that you take part in the welcome days. They will give you the chance to acclimatize yourself at the University of Freiburg more quickly and make our work easier as well.
We are certain that the wealth of information provided during the welcome days will have a positive effect on the success of your studies and also help you to acclimatize yourself socially in Freiburg. We are looking forward to seeing you there.
When do the Welcome Days take place?

On Thursday, April 16th, 2020 and Friday, April 17th, 2020
Where do the Welcome Days take place?

The Welcome Days will be held in the Lecture Hall "Audimax", Kollegiengebäude II (KG II)
Program of the Welcome Days

Friday, October 11th, 2019 in the Lecture Hall "Audimax" Kollegiengebäude II (KG II)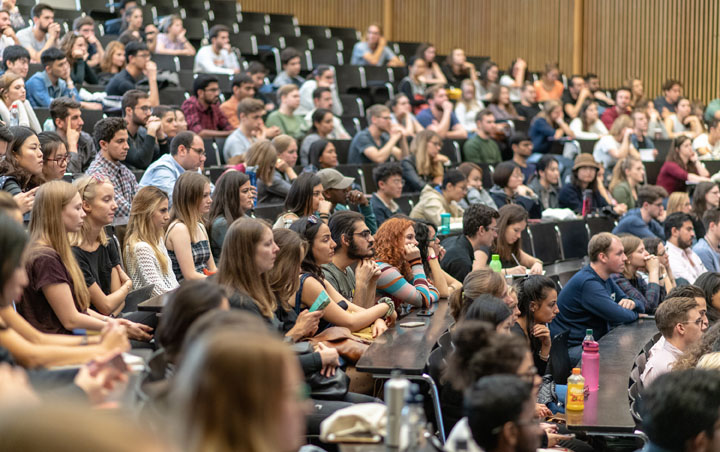 2:00 p.m.
Welcome address from the Vice-President of the University of Freiburg
Introduction to Studying in Germany
Studying in Germany is to some extent different from studying in other countries, so we would like to call your attention in some important and special aspects of it. We would also like to bring you to our "term world" regarding your future study here in Freiburg. What does Proseminar and Hauptseminar mean? What is a Übung? How can I register for courses?
Presentation
Presentation of the Computing Center (Rechenzentrum)
The Computing Center provides services such as e-mail addresses and internet access to studentes and also offers workshops on various topics from data processing (PowerPoint, Word, HTML, etc.).
Presentation
Presentation of the Language Teaching Center (Sprachlehrinstitut)
At the Language Teaching Center (SLI) you can learn more than 20 languages. They offer intensive courses in German, courses for special purposes or for international students etc.
Presentation
Presentation of kosmic-Learning Platform Interculturality
At the kosmic-Learning Platform Interculturality you can find out about the academic culture in Germany, like the course formats and working methods at the university. In addition you will be taught essential skills for successful studies, like how to prepare a presentation.
Presentation
Presentation of the Studierendenwerk
At the central information "Infoladen" of the Studierendenwerk (SwFR) you can get help for all matters concerning student life.
They inform you as well about leisure and culture activities especially for international students or give you advice with almost any social, personal or economic query.
Information about the german social insurance system
In Germany it is obligation for every person to have a social insurance.
Technische Krankenkasse (TK) will provide you with more detailed information.
Presentation
"Tipps and Tricks" for everyday life in Freiburg


from UNIKOS scholarship recipients and the International Office


Yes, Freiburg has affordable supermarkets, student bars which offer a good dinner for under 5 €, and movie theaters which have alternatives to the normal program, such as foreign-language films. In our presentation, we let you know how to find a bicycle or where you can ride to with the SemesterTicket…and much more.
Presentation
5:00 p.m
6.00 p.m.
Information Event and International Welcome Dinner Buffet, Mensa Rempartstraße
At various information stands, students can find out about language courses, leisure- and cultural offers, students associations, action groups and sports teams etc. At the same time, the canteen will be offering an All-You-Can-Eat-Buffet with a great variety of dishes from around the world.
From 9.00 p.m.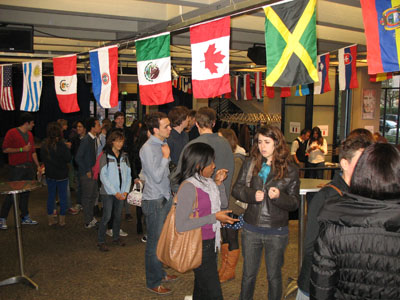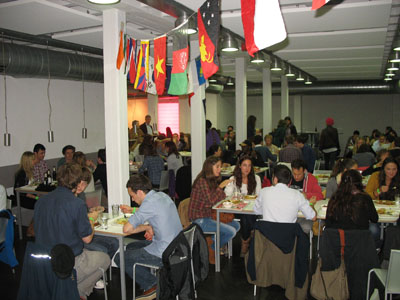 ---
Monday, October 14th, 2019
10:00 a.m., Lecture Hall 2006, Kollegiengebäude II (KG II)
Introduction for ERASMUS-Students
Meeting with the ERASMUS departmental coordinators
Registering for the Welcome Days
In order to ensure that we can organize the welcome days as effectively as possible, we ask that you use our form to register for the welcome days.
Presentations of the Welcome Days
The Welcome Days will be held in the Lecture Hall "Audimax", Kollegiengebäude II (KG II)